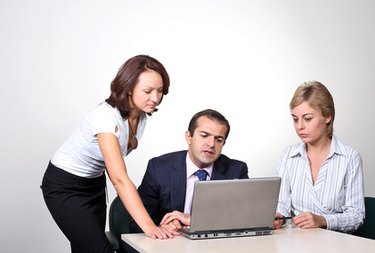 One of the benefits of working with Microsoft Office applications is that the programs work well together. For instance, adding an Excel spreadsheet to a Word document can provide an instant visual aid for a report or other file. You can easily insert an existing worksheet into your Word document and even link it to the original Excel data so that it changes with any updates.
Step 1
Open the Word document into which you want to insert an Excel spreadsheet. Open the worksheet in Excel that you want to insert into Word.
Step 2
Use your mouse to select the data on the Excel worksheet that you want to insert into the Word document. Copy the selected data using the keyboard shortcut "Ctrl+C" or by clicking the "Copy" button on the standard toolbar in Excel 2003 or on the "Home" tab in Excel 2007 or 2010.
Step 3
Place your cursor in the Word document where you want to insert the Excel worksheet.
Step 4
Click "Paste" on the formatting toolbar in Word 2003 and then click the Paste Options button next to the pasted data. In Word 2007 or 2010, click the "Paste" drop-down arrow on the "Home" tab.
Step 5
Click on "Match Destination Table Style and Link to Excel" if you want the formatting to match the Word document, or click on "Keep Source Formatting and Link to Excel" to retain the spreadsheet formatting.
Things You'll Need
Word 2003, 2007 or 2010

Excel 2003, 2007 or 2010