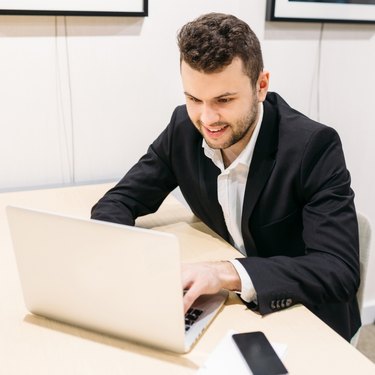 PowerISO is a computer utility with the ability to extract the contents of optical disc image files and convert between different image file formats such as ISO, BIN and NRG. Although PowerISO is marketed primarily as a Windows utility, a free Mac version is also available. The Mac version of PowerISO is a Unix-based command line application that runs in a Terminal window. You can download it from the official PowerISO website.
Step 1
Open your Web browser and navigate to the download page for PowerISO (poweriso.com/download.htm). Scroll down to the "PowerISO for OSX" heading and click the "Download" link. Safari displays the file "poweriso-1.3-osx.tar" in the "Downloads" window.
Step 2
Right-click the file "poweriso-1.3-osx.tar," and select "Open." The computer opens the "Downloads" folder and decompresses the archive. The "Downloads" folder now contains a new icon called "poweriso."
Step 3
Click the "Go" menu at the top of the screen, and then click "Utilities." Double-click the "Terminal" icon in the "Utilities" folder to launch a Terminal session.
Step 4
Type "/Users/(user name)/Downloads/poweriso" and press "Enter" to run PowerISO (Substitute your computer username for "(user name)." Use the command "/Users/(user name)/Downloads/poweriso -?" to see the instructions for PowerISO.