In order to enjoy the multimedia and sound features of your Dell computer, you will need to install a set of speakers. If your computer does not currently have speakers or if you need to replace a defective pair, install a new set in about five minutes to begin enjoying music or multimedia sound features on your Dell PC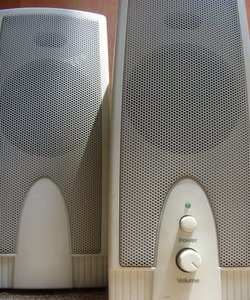 Windows XP
Step
Locate the green 3.5-mm (1/8-inch) plug-in adapter hole on the rear of the computer. In most desktops, it is next to a blue and pink plug-in hole of the same size.
Step
Plug the 3.5-mm male adapter plug from the speakers into the green plug-in adapter hole. Then, plug the AC adapter into an electrical outlet. If necessary, insert the plug-in adapter for the AC adapter into the correct hole or slot on the speakers.
Step
Boot your computer and log-in to your Windows operating system.
Step
Click on the "Start" button and then "Control Panel" tab. Once the "Control Panel" screen is displayed, double-click on the "Sounds and Audio Devices" icon.
Step
Enable the "Place Volume Icon on the Taskbar" option. Also, ensure that the "Mute" option is not checked. Adjust the volume for Windows applications by adjusting the volume slider control with your mouse. Click and drag the slider until the dial is at the desired volume level.
Step
Click on the "Advanced" tab. Make sure the "Desktop Stereo Speakers" option is displayed in the drop-down box and click the "OK" button. Click "OK" again to finish the installation of the speakers.
Step
Turn on the power to the speakers. Insert a music CD into the CD/DVD drive of your computer or play other sounds on your PC to test the new computer speakers.
Windows 7
Step
Click on the "Start" globe or button and then the "Control Panel" label. The Control Panel main screen will display on your monitor. Click on the "Hardware and Sound" link.
Step
Click the "Manage Audio Devices" link in the "Sound" section on the Control Panel screen. The "Sound" configuration window will then open.
Step
Click the "Speakers" label under the "Playback" tab. Click the "Configure" button to open the "Speaker Setup" configuration window and select the "Stereo" option. Click the "Next" button.
Step
Enable the "Front Left and Right" option box by clicking the check box. Once the check mark appears in the box, click both small speaker icons to test the sound from the speakers. You should hear sound from the two right speakers when you click the speaker icon labeled "R," and the two speakers on the left should produce sound when you click the icon labeled "L."
Step
Click the "Next" button and then the "Finish" button to complete the speaker setup.
Step
Adjust the volume by clicking on the speaker icon near the time and date area in the taskbar. Use the slider control to adjust the volume to the desired level.