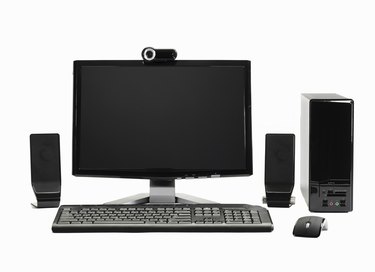 External computer speakers are a great way to get the most from your multimedia HP computer. Connecting external speakers to an HP provides rich, high-quality sound for listening to music and viewing videos. It is a very simple procedure that can be accomplished without installing additional software or rebooting the machine.
Step 1
Locate the speaker jack on the HP machine. A series of small holes will be found near the machine's sound card. A small picture of headphones will indicate the speaker jacks. HP computers often have two speaker jacks in order to accommodate stereo sound. The jacks will be numbered "1" and "2". On HP Pavilion laptops, the speaker jacks, along with the microphone jack, are located on the front of the machine under the touchpad.
Step 2
Assemble the external speakers according to package instructions. The speakers will be wired together with color-coded cables, and a connector cable connects the external speaker system to the speaker jack or jacks on the HP computer.
Step 3
Plug one end of the connector cable into the HP computer's speaker jack and the other end into the receiving speaker. If two male connectors are provided with the external speakers, plug one connector into the "1" slot and the second into the "2" slot on the HP machine.
Step 4
Plug the external speakers into a power source and turn on the speakers.
Step 5
Test the speakers by playing audio on the HP computer.