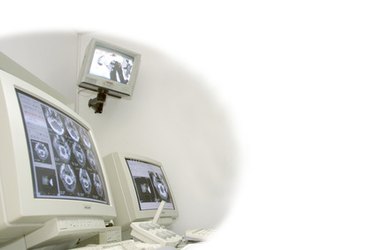 In an effort to reduce power consumption and increase screen life, Microsoft Windows includes a variety of power settings to aid in managing sleep and hibernation times. The default settings for Windows will put your monitor to sleep after your computer has been sitting idle for a set amount of time. While this is great for increasing battery life and lowering your electric bill, it can be a nuisance if you have programs running that need to be monitored.
Step 1
Click "Start," and type "Power" in the "Search" box.
Step 2
Click "Power Options" from the search results list. This opens a new window on your screen.
Step 3
Click "Choose when to turn off the display" in the left pane. This displays your sleep settings in the center of the screen.
Step 4
Click in the drop-down menu next to "Turn off the display," and click "Never."
Step 5
Click the "Save Changes" button. This change takes effect immediately.