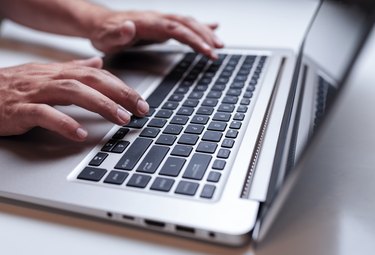 Taking data entry classes is a great way to learn the process, but most classes require a fee. However, free online resources and self-training options are available for advancing your skill set. Data entry jobs are frequently remote, making it possible to work from home and pursue either a full-time or part-time position as an employee or self-employed individual.
What Is Data Entry?
Data entry is the process of transcribing and inputting information into a recording system. Data entry jobs can involve any number of different tasks, but they all require typing information into a word processor, spreadsheet or software system using a keyboard or 10-key numerical pad.
A common task in data entry involves transcribing conversations into text. You might listen to a recorded phone call or meeting and transcribe the words into a text format to create a physical record. Keeping records and minutes for meetings is important in government, business and the nonprofit sector. Many of these jobs are deadline-based, and the ability to type quickly and accurately is essential for data entry professionals.
Data entry is a busy field, and the demand for skilled typists means training and certification programs are widely available. A freelance or contract-based data entry job depends largely on typing speed and the ability to focus and turn around the work quickly. Working slowly ultimately lowers the hourly rate on flat-rate assignments.
Data Entry Courses Online
One of the best ways to learn data entry is through an online course. These courses, combined with remote job roles, make the profession accessible to anyone with a computer and a reliable internet connection. Free data entry tutorials and online courses are available. Do a quick web search to view free resources.
The most robust online data entry courses require a fee, however, because they ultimately lead to a certification you can use in the job market. This certification not only verifies your training but also serves to verify the results of your typing test and 10-key test. Freelance professionals do not want to take a new test for each client, and having a certification of your skill set available is a significant timesaver.
Use the free online courses to advance your skills and gain a better understanding of the business, but take a certification course before applying to positions. The free courses are great for practice and ultimately help improve your typing speed and accuracy before engaging with timed tests.
Training in a School
Data entry training is not limited to online courses. Many colleges and technical institutions offer training and certifications in a physical classroom setting. You might even find a free training program provided through job development services in your local community. Spend some time researching nonprofit job services in your city or county to discover potentially free or low-cost programs.
School-based programs end in a certification, much like paid online courses. The school setting provides a great way to network and meet potential employers. Many schools offer job placement services that help with the transition into the workforce. These services are valuable because they help you earn money immediately after graduation.
While learning online is a convenient and useful means of training for many individuals, the physical school setting remains viable and works equally well if a program is available in your area.