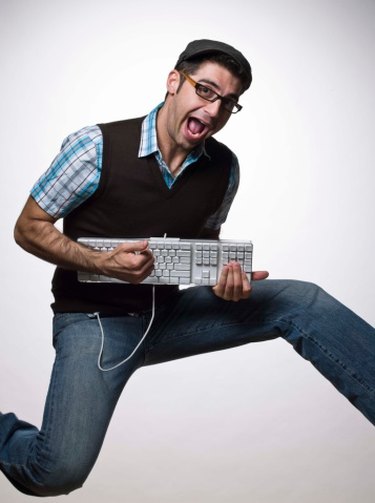 Technology is continuing and will continue to shape our daily and professional lives. Currently, voice and other input technologies are not prepared to meet today's demand, so the keyboard remains the primary source for inputting information into computers. Keyboarding skills are very important in that they can impact a person's ability to communicate with others in the future, both in social and professional realms.
Programs and Students
Keyboarding skills are most necessary for using word processing software, but are also required if using database software, email or instant message communication. From an academic standpoint, keyboarding skills are a must for students interested in higher levels of education in almost any field. Word processing software can be a substantial time-saver and tool for students at any level; those who are unable to use this tool will fall behind.
Job Placement
Many careers today require keyboarding and basic computer skills. By having adequate keyboarding skills, people can open up a much larger market for themselves when making a career choice. Some fields that would require intensive keyboarding skills would be legal, journalism, statistics, social sciences and language arts.
Social Functions
As younger generations have shown, children and young adults are communicating via text message and via the Internet at increasing rates. A person slow to adopt these forms of mobile and Internet communication may miss out on opportunities to make friends with others, a key component of social development for younger adults.
Instruction
According to the Saskatchewan Education Department, a minimum of 50 hours of instruction is needed for middle school-aged children to become proficient in keyboarding skills. Keyboarding skills should be taught by trained professionals who are familiar in the proper fundamentals and techniques of key stroking. Lastly, as with any new skill, it is important to practice keyboarding skills to develop and maintain them over time.