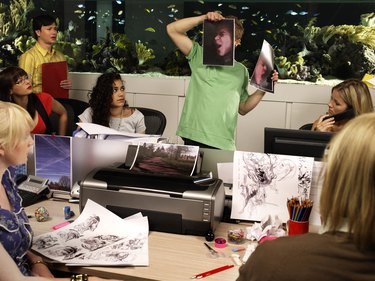 The Canon P23-DH V is an advanced portable calculator capable of printing out complex time-based fee structures and long-term profit margin calculations. Loading the Canon P23-DH V with new paper can be done quickly and easily, interrupting operation of the calculator for no more than a couple of minutes. You only need to make sure you have an extra roll of paper handy when going through hours of calculations, because the Canon P23-DH V will run out of paper, leaving you with no record of your efforts.
Step 1
Cut the beginning of the roll of paper at a 45-degree angle with the scissors for better feeding into the Canon P23-DH V.
Step 2
Lift the paper arm up and slide the roll onto the paper arm. The cut edge of the paper should be feeding down from the outside of the roll.
Step 3
Insert the cut edge of the paper into the small slit at the back of the calculator.
Step 4
Press the feed button in the upper left area of the calculator's keyboard to feed the paper roll up through the calculator.