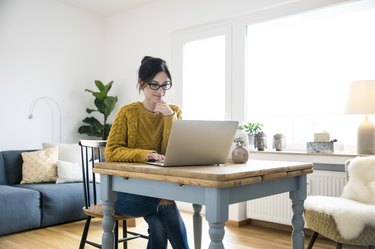 Started back in 2003, MySpace was once a very popular social networking site where you could message your friends, make blog posts and share music and photos. The site has since undergone changes and now allows you to browse old photos, make connections, listen to music and create an online portfolio. If you want to return to the site but lost both your password and access to your email address, MySpace's support site warns you'll need to first work with your email provider to regain access to your email account. If you can't get your email account back, you'll likely need to just make a new MySpace account.
Check Your Browser's Saved Passwords
If you don't remember your MySpace password, you could still have it stored somewhere on your computer. Web browsers commonly ask you if you want to save a password when you log in to a website. Even if your current browser doesn't have the password saved, consider whether you used another browser to log in to your MySpace account in the fpast.
A simple way to test this is to visit MySpace.com in each browser and go to the login form. See if your browser automatically fills the form in or asks if you want to use an existing login. If so, you should be able to get access to your MySpace profile as long as the password hasn't been changed since the last login. You can also check your browser's preferences; look for a section for security and/or privacy and then find the option to view saved passwords.
If you're able to locate the password and successfully log in to your MySpace, you can go into your account settings and look for the option to change your associated email address to whichever one you use now. You can expect to enter your current MySpace password for confirmation to make this change.
Regain Access to Email Account
If your password is completely lost and you've lost access to your email address, there may be a way to recover it. As long as your provider hasn't deleted the account permanently or assigned your email address to someone else, you should be able to follow the typical password recovery process. If you had deleted the email account on your own, some providers, such as Gmail, allow you to recover the account if it was a recent action, even though you may lose your old data.
The account recovery and password reset process will differ by provider. Generally, it requires providing information to verify your identity (such as your full name, birth date and answers to security questions) and possibly having a code sent to your phone or alternative email address if you have two-factor authentication enabled. For the most success, you'll need to know your username or full email address at the very least to locate the account and be able to change the password.
To find instructions for your specific email provider, check its login page for a password reset or account recovery link. The email provider's customer support site likely has resources about resolving login problems. You may also be able to contact their customer service online or by phone for additional assistance with regaining access to the account.
Reset MySpace Login Information
After you've regained access to your email account, you can reset your MySpace login information to get a new password. You'll visit the MySpace login page and click the "Forgot Password?" option. Fill in the field for either your email address or MySpace username. You'll then tick the box for verification and select a few images in a puzzle to prove that you're an actual human, rather than a robot trying to gain access to someone's account.
Clicking "Submit" will get a password reset email sent to your associated account. That email has a link that takes you to choose a new password on MySpace.com. For the best security, use a complex but memorable password consisting of letters, symbols and numbers. You'll need to enter that password twice for confirmation and then click "Reset Password" and "Continue" to finish the process.
You should now be able to get into your MySpace account. To avoid forgetting or losing your new password, consider using your browser's password save tool or a standalone password manager software like 1Password or LastPass.