MySpace members are required to provide a valid email address and password upon the creation of an account. For added convenience, many computers and wireless devices will remember your log-in information for you. Without realizing, you can go weeks or months without manually entering it in. If you forget your password and lose access to your email account, you can request assistance from MySpace in just a few steps.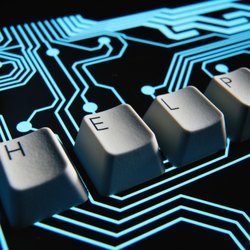 Step
Write the word "MySpace" followed by your MySpace vanity URL or friend ID on a sheet of paper. Write legibly and with a dark shade of marker. Ask a friend to look up your vanity URL or friend ID if you don't have access to it.
Step
Take a picture of yourself holding the sheet of paper, ensuring that your face appears clearly in the photo. If using a digital camera, upload the photo to your wireless device.
Step
Go to myspace2.custhelp.com/app/contact/, and fill in the online submission form. Enter the new email address you wish to use for your MySpace log-in. Select "Log in" from the category drop-down list. Select "New Email Address" from the sub-category drop-down list. Click the "Attach File" button, and attach the photo of yourself holding the sheet of paper.
Step
Click the "Send My Message" button that appears on the resulting page. You'll receive an email at the new address you provide with an activation link.
Step
Go to myspace.com/, and click the "Login" option in the upper toolbar. Click the "Forgot Password" link that appears in the resulting box. Enter your new email address, and type the CAPTCHA phrase in the space provided. Click "Send." You'll receive a password reset email from MySpace shortly. Click the link in the email to reset your password.