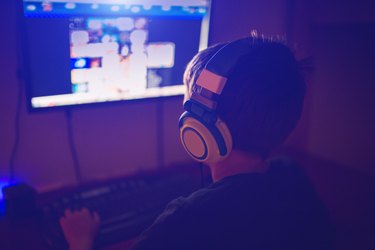 The online gaming platform Garena offers multiple options to change or reset your password as long as you have access to important account details such as your Garena username, email address or phone number. If you can still log in with your current password, changing your Garena.com password is as easy as making the change from your account portal. Even if you've forgotten your password or completely lost access to your account, there are still steps you can take to recover your login information and get back to playing your games.
Change Password From Account Portal
As long as you still have your current password, you can visit the online Account Center for Garena to set a new password. After logging in to the Garena website, click the "Change Password" option under your profile overview on the left side of the page. You get a prompt to obtain a verification code from your phone's Garena Authenticator app, although you can click the "SMS" link below the form to have the code texted to you instead. After you obtain the code and enter it on the page, click "Verify" to proceed.
You are then asked to enter your current password and type the new one twice. Garena requires that your new password is at least eight characters long and has symbols, letters and numbers. Click "Change" to set the new password and return to your account information page.
Reset Your Forgotten Password
If you have forgotten your password, you can visit the Garena login page and click "Forgot Password" to access a form to look up your account. The quickest way is to type your Garena username or account email address in the first field on the recovery form. Otherwise, you can type your phone number in the second field, but you still have to give your username later to proceed with recovery. After entering your information, type the numbers that appear in the security code image below the form and click "Next" to proceed.
The next stage of the recovery process depends on the information you used to look up your account. If you chose to look up your account with your phone number, Garena shows a username hint and asks that you enter the full username and click "Next" to proceed to the verification code step. Otherwise, the verification step appears automatically to prompt you to enter your verification code, which you can find in your Garena Authenticator app or opt to have sent through email or text message.
After entering the verification code, click "Verify" to access the Garena change password form. Type your desired password twice, making it at least eight characters with a mix of letters, numbers and symbols, and then click "Confirm" to set the new password.
Contact Garena to Recover Account
If you completely lost access to your account and can't recover it with the other methods, you can email Garena at accountsam@garena.com. The company's support site instructs you to send the email from the same email address you use for Garena and to write "My Garena Account" for the email's subject line to flag the request for account recovery. In your email, Garena requests you to provide your email address, username, game summoner name, a receipt or other proof of purchase for Garena Shells and any other details about the account, such as concerns about unauthorized charges or pieces of information that can help identify you.
After you send the email, Garena begins the account recovery process and may reach out to ask for additional identifying information. The process can take some time because the company performs a strenuous investigation to protect your account's security.