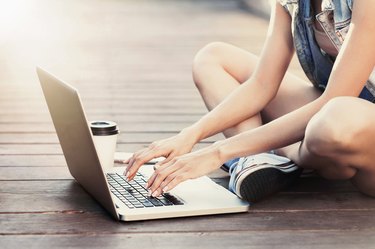 Tumblr is a popular website and app for social networking and blogging. If you're using Tumblr on a shared device or have multiple accounts you want to use, you may want to log out of Tumblr from time to time. You can easily do this from the website or the smart phone apps.
Log Out of Tumblr Desktop
If you're using Tumblr on a desktop web browser, signing out is relatively easy. Click the account button in the top right corner of the website, then click "Sign Out."
If you want to sign in to multiple Tumblr accounts at once, you can consider using multiple browsers or multiple browser login profiles to sign into Tumblr. For example, you might use Mozilla Firefox for one account and Google Chrome for another, or use the profile feature in your favorite browser to manage multiple open logins within one browser.
If a friend simply wants to quickly sign in and check a Tumblr account without signing yours out on your device, you may want to use your browser's private browsing mode without having to go through the Tumblr signout process. This is supported in most modern browsers.
Tumblr Mobile Apps
Many users prefer to connect to Tumblr through a mobile app. The service has apps for iOS and Android.
Occasionally, you may want to sign out of your account on your phone for privacy's sake or to sign in to another account. To do so, open the app and tap the "Account" button, which looks like a person. Then tap the "Settings" button, which looks like a gear. Tap "General Settings," then scroll down in the settings menu and tap "Log Out" to log out of your account.
Delete Your Account
There's also an option for deleting your account on Tumblr altogether. Note that your blog will be deleted and someone else will be able to grab your username if he wants to use it, so make sure you're sure before doing so.
On the Tumblr app on your phone, or on the Tumblr website, go to the "Settings" menu. Then, tap the "Delete Account" button and follow the prompts to delete your Tumblr account and blog.
Once you delete an account, you can create a new account with the same email address.
Two-Factor Authentication
If you're concerned about the security of your Tumblr account, you may want to enable two-factor authentication. Once this is set up, someone who guesses your password will still not be able to log in as you without verifying that he has your phone by entering an additional code.
To set this up, go to the "Settings" menu in Tumblr, then click or tap "Security." Click or tap "Enable Two-Factor Authentication." You can either receive authentication codes via text or use a two-factor authentication app such as Authy or Google Authenticator.