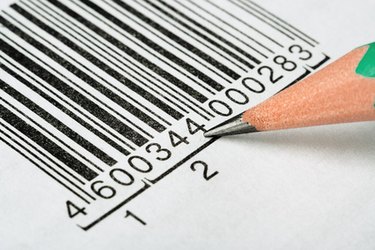 Barcodes appear on nearly every conceivable product, and are used not only on packaging for the supermarket shelf, but also for everything from inventory control in warehouses to routing slips for overnight shipments. Creating a barcode in Adobe Illustrator is easy, using one of a number of plug-ins designed specifically for this task. You can also use several third-party barcode generating products and paste the output into Illustrator (see Resources).
Creating a barcode in Adobe Illustrator
Step 1
Download an appropriate plug-in for your version of Adobe Illustrator that includes coding for the type of barcode you need to produce. There are more than a dozen different configurations of commonly used barcodes. Not all Adobe Illustrator plug-ins cover all of the available configurations. This barcode creation example uses the Barcode Toolbox product.
Step 2
Make sure that Adobe Illustrator is not currently running on your system. Install the downloaded plug-in in the Adobe Illustrator Plug-Ins folder, or whatever folder is specified by the plug-in you have selected.
Step 3
Start Adobe Illustrator by double-clicking on the Ai icon. Some barcode plug-ins are listed as a new filter; others, such as the Barcode Toolbox, are installed in the Illustrator Toolbar (default position on the left-hand side of the screen). Open the Barcode Create tool, or the barcode filter if you are using a different plug-in. This will place a window on your Illustrator workspace where you will enter the barcode data.
Step 4
Enter the type of barcode being created, or choose it from the drop-down menu in the Barcode Create window. For package design you will normally use a UPC- or EAN-type barcode. Warehousing applications will normally use a Code 2-of-5 or Code 128 barcode type.
Step 5
Enter the code for the product, book, or other item in the Code window. This number will be produced by your accounting department or another internal source—it is not automatically generated by the Adobe Illustrator plug-in. Each code type has different format designations; follow the format examples that come with your barcode plug-in, or see the Barcode 1 listing in the Resources section.
Step 6
Choose any width, magnification, and bar height restrictions for your product in the appropriate entry areas of the Barcode Create tool.
Step 7
Click anywhere in your Adobe Illustrator document outside of the Barcode Create tool to generate your new barcode. Select all items of the barcode (Cmd-A on the Mac; Cntrl-A on the PC) and drag it into position on your Illustrator artwork.