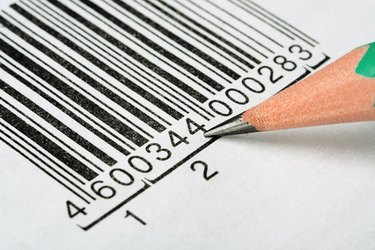 Barcodes have become a nearly-universal way of marking products with information. Barcodes are used to identify items with a unique code, manage product pricing, track inventory, arrange for reorders and collect data on returns. Creating actual barcodes requires special software or special printers to take product data and print it in barcode format.
Step 1
Identify your barcode symbology. There are different types of barcodes that use different styles of coding known as symbology.
Universal Product Code (UPC) barcodes are used in commerce around the world. Other barcode symbologies might be used for internal inventory management.
Check with the inventory management department in your organization to make sure you are working with the correct barcode symbology.
Step 2
Enter product codes in an online barcode generator like that at barcodesinc.com or barcoding.com. These generators will encode your product data in the barcode format you select and provide a graphic version you can print out on any printer. They are very useful for creating a small number of barcodes.
Step 3
Use a commercial barcode generator system. Barcode printing systems use specialized software to manage barcode information and create barcode labels, and might also include dedicated printers for high-volume barcode production. Products from vendors like BarcodesInc.com or NationalBarcode.com can provide the hardware and software for managing barcode data and printing labels.