Accounting software is expensive. For a start-up company or a small business, using Microsoft Excel for your accounting can save you some money. Excel allows you to do many of the things that you can do on Peachtree or QuickBooks, but Excel requires you to set up the forms and equations. These other programs will create a form for printing payroll automatically, but in Excel you'll need to set it up yourself. You can purchase check paper online from companies like Formsandchecks.com.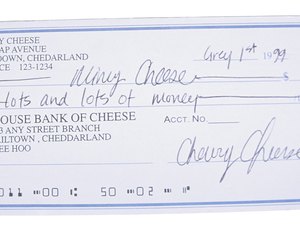 Step
Open Excel.
Step
Type the name of the employee in cell C6. In C7 and C8, type the address.
Step
Type the amount of the check in cell C10. This amount should be spelled out and all in capitals.
Step
Scroll over to J6, and type the numerical amount that the check is for.
Step
Place the check form in the printer, then print. You can either hold Control and hit "P" or you can go to File and select "Print."