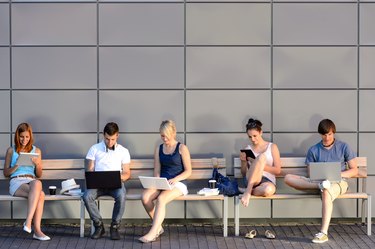 Journalism instructors often ask beginning students to create fake obituaries about themselves. Some may find this difficult, but writing obituaries can help students learn some of the basic news-writing skills.
Step 1
Open Adobe InDesign and create a new document by selecting "Ctrl+N." Select a size of 2 inches wide by 8 inches tall and press "Enter."
Step 2
Click on the "Text Box" tool from the toolbox and draw a text box that fills the 2-by-8 document. Then choose a "Picture Box" tool from the toolbox and create a box at the top of the column that's about 1.75 inches wide and 1.75 inches tall. Select "Ctrl+D" and open up a browser window to choose an image to place in this picture box. The picture should be an image of the "deceased's" face.
Step 3
Choose the "Type" tool from the toolbox and click on the text box just under the image. Type in the name of the deceased, the date of birth and the date of death.
Step 4
The first paragraph should include basic information that identifies the deceased, including his full name, age at death and where he lived and died.
Step 5
Add information about her life and accomplishments: occupation, education, awards and achievements, hobbies, religious affiliation and so forth. Anecdotes can bring out the deceased's personality and make an obit more interesting.
Step 6
List surviving family members: parents, spouses, siblings, children and grandchildren, and in some cases nephews, nieces, cousins, friends or even pets. Also include the names of spouses, parents, or children who may have died before the deceased.
Step 7
Add information about viewing hours and any funeral or memorial service. Include the date, time and place of the viewing and the funeral. Don't forget the name and address of the funeral home and any other relevant information.
Step 8
Tell how mourners might make donations in memory of the deceased. Include addresses or contact information about any memorial funds or charities that will accept donations.
Things You'll Need
Adobe InDesign

Computer

Printer
Tip
Programs like Photoshop can also be used to create a fake obituary.