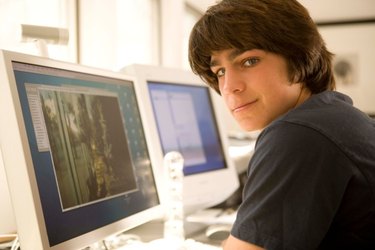 A blurry video is no fun to watch, but Windows Movie Maker can help you solve that problem. Movie Maker is a free video-editing program available on most Windows operating systems. It allows you to create slideshows and videos, and also add titles, transitions and other effects. Changing the format in which you saved your video only takes a few simple steps and will solve the problem of blurry pictures.
Step 1
Click on the "Start" button, and select "All Programs." Click on Windows Movie Maker to load the program.
Step 2
Click on "Click here to browse for videos and photos." Search through your files and select a video file that you would like to make less blurry. If you would like to place multiple videos together into one file, repeat the process to add as many videos as you like. These videos will then appear on the left side of the Windows Movie Maker window.
Step 3
Drag the video into the timeline at the bottom of the Windows Movie Maker window. Place the files on the timeline in the specific order you would like them to play. Click on the "Visual Effects" tab at the top of the window, and select any effects you would like to add to the videos. Drag the effect to the bottom of the timeline, and place it underneath the video you would like to apply it to.
Step 4
Click on "Save Movie Wizard" on the left side of the screen underneath the "Finish Movie" heading.
Step 5
Give the video a name, and click on "Next." This will save all of the imported videos into one single file. Select the "Other Settings" option, and select the drop-down menu. Select "DV-AVI" from the list of file type options. This is the format that you will save the video file in. Saving it in this file instead of another improves the quality of the file and will stop the picture from appearing blurry. Click on "Next" to save the file to your computer.