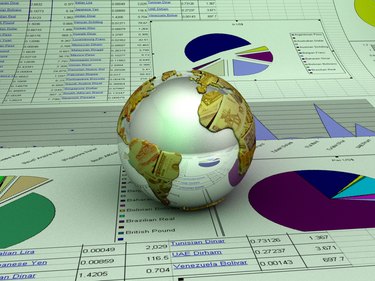 Microsoft Excel 2010 lets you control the size of a worksheet's cells. By default, the cells appear in uniform size. Resize one cell or multiple cells to fit all your data. For example, adjust the borders to allow more data to display in a wider cell. You can also apply an "Alignment" command so that the text wraps into a taller cell when there are multiple lines.
Adjust the Cell Borders
Step 1
Open the Excel worksheet.
Step 2
Move your cursor over the separator line between two headers — for example, the vertical line between column headers "B" and "C." The pointer changes to a small, black, vertical line with two opposing arrows. If this symbol does not appear, click the header and then hover the cursor over the separator line.
Step 3
Click and drag the boundary line left or right to resize the column or row. Release the mouse button.
Add More Lines to Wrap Text
Step 1
Open the Excel worksheet.
Step 2
Click the "Home" tab on the command ribbon.
Step 3
Click and drag on the adjacent cells where you wish to add extra lines to the cells.
Step 4
Click the "Wrap Text" button in the "Alignment" group.
Step 5
Type in the selected cell. The text will wrap on multiple lines inside a taller cell. The cell does not widen.
Step 6
Click the row header. Drag the row's bottom border to display all the wrapped text in the resized cell.