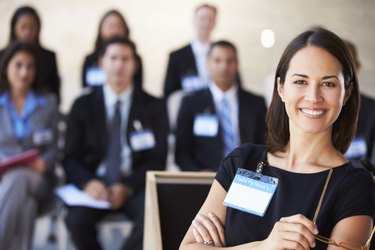 Microsoft Word provides many features that useful beyond just writing documents. In the latest versions, including version 2013, you can import document templates such as a name tag template to quickly create a large number of name tags for an event or meeting. You can manually enter each name or you can use Microsoft Word to merge the names and create tags for you if you have a guest list in Excel format or in another Word document.
Manually Enter Names
Step 1
Launch Microsoft Word, click the "Office" button at the top left, then "New."
Step 2
Enter "name tag" in the search box and click the search arrow. Select the name tag template that most closely matches your needs. For instance, consider "Name badges Flourish design," "Name badges Colored blocks design," or "Name badge labels Pencil design." Click "Download" after you make your selection and click "I Agree" if an end user agreement window displays.
Step 3
Manually enter each person's name and other information for each name tag. When you are finished, save your document and print your tags. Alternately, follow the steps in the Mail Merge section. Office supply stores carry paper that is thicker and heavier than standard office paper and is more appropriate for name tags. You can often find paper that is perforated already, so you do not have to cut out each name tag with a scissors.
Use Mail Merge
Step 1
Click the "Mailings" tab in the top menu of Word. Then click "Start Mail Merge," then "Labels."
Step 2
Select the label vendor for your name tag template paper from the "Label Vendors" drop-down list. Then select the product code or size that best matches your template. For instance, if you purchased paper from an office supply store that is perforated already, the vendor's specific product ID number will be on the packaging. You can match that value to one in the drop-down list. If the value is not in the list, look at the paper packaging for the size of the tags and use the measurements to find a best fit.
Step 3
Click "Select Recipients" from the "Mailings" tab, then click "Use an Existing List" if you already have a list in an Excel spreadsheet. Click "Choose from Outlook Contacts" if you want to use your Outlook contacts. Alternately, select "Type New List" if you do not have a list and want to create one.
Step 4
Click the "Edit Recipient List" button in the "Mailings" tab. Uncheck any names from the list you do not wish to print a tag for, then click "OK."
Step 5
Add merge fields in your template for the person's name and any other information such as title or company. Click on the first tag in your template and click "Insert Merge Field." For example, click "First," or the person's first name. Then do the same steps and click "Last" -- the person's last name. Add other fields as you wish and adjust their location on your template. Copy and paste this format to all the other tags in your template.
Step 6
Click "Preview Results" if you want to test the merge and possibly make adjustments. If this step produces the results you need, then save your document and print your name tags. Alternately, you can adjust your format and use "Preview Results" again in an iterative process to perfect your results.