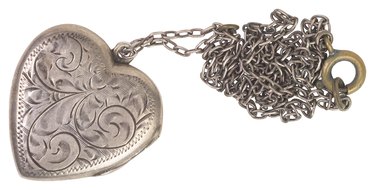 A photo locket can be worn to keep that special someone close to your heart, or can be a gift to your girlfriend, wife, mother, grandmother or daughter so that they can do the same. Reduce the size of a photograph if the image needed for the locket is too large fit. Resize the image in a digital photo program such as iPhoto, Picasa or Photoshop. If the image in question is a print or negative, first have it scanned to digitize it. To get started, measure the square dimensions around the locket to determine what size the image needs to be. After printing, trace the shape of the locket around the image for cutting it out.
iPhoto
Step 1
Select "Print" from the "File" menu.
Step 2
Pull down the "Print Size" menu and select "Custom."
Step 3
Enter the previously measured dimensions in the "Custom" dialog box.
Picasa
Step 1
Click on the "Export" button in the "Photo Tray."
Step 2
Select "Resize To" in the "Export" dialog box.
Step 3
Change the size by either moving the image slider or by entering the proper dimensions in the image size fields.
Step 4
Click "OK" to save the image to your hard drive.
Photoshop
Step 1
Select "Image Size" from the "Image" menu.
Step 2
Check "Constrain Proportions" to keep the height-to-width ratio the same when resizing.
Step 3
Enter the correct dimensions in the "Document Size" section of the "Image Size" dialog box and click "OK."