Although the iPhone keyboard keys enlarge slightly when you tap them to display what key you're pressing, they can be hard to read due to the iPhone's screen size. To correct this problem, iTunes has an Accessibility feature that enables easier keyboard viewing by zooming in on the keyboard using three fingers. This feature can be turned on or off simply by accessing your device's settings menu.
Enable Zoom From Settings
Press the Home button on your iPhone and slide the on-screen bar to the right to unlock the device.
Tap the "Settings" icon on your screen, and tap the "General" tab.
Slide your finger up to scroll down, and tap the "Accessibility" tab. Tap the "Zoom" tab.
Slide your finger over the switch so that it reads "On." Press the Home button to return to the main menu.
Double-tap the keyboard screen with three fingers to zoom in on the keyboard, and double-tap with three fingers again to zoom out. Move around your screen by dragging your three fingers across the screen.
Enable Zoom From iTunes
Plug your iPhone into your computer's USB port using the device's USB cable. Launch iTunes.
Click the "iPhone" button in iTunes. Click the "Summary" menu if it's not already selected and scroll down to the Options section.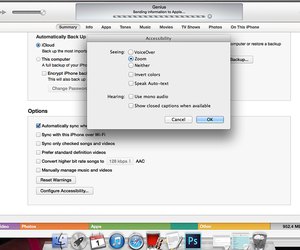 Click the "Configure Accessibility" button at the bottom of the screen. Select "Zoom" and click "OK."
Click the "Sync" button and unplug the iPhone from your computer once the synchronization has finished.