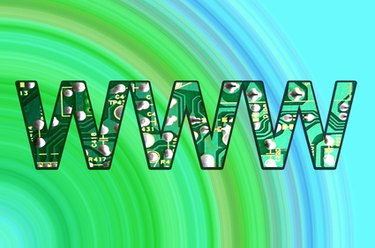 GoDaddy provides numerous tools to get your website launched. In addition, GoDaddy also offers tools to help you manage, update and edit your site once it's live. You can take advantage of GoDaddy's built-in FTP tool to modify your website without downloading an additional FTP client. GoDaddy's interface is easy to use for most computer users, and modifying files on your website can be done within minutes.
Step 1
Log into your GoDaddy account and click on "Hosting" under "My Products."
Step 2
Click the green arrow under "Launch" to open your hosting account. On the next page, click the "Your Files" button in the top left. The File Manager will open, giving you access to your server's files. Your website files are stored on the server.
Step 3
Navigate to the location of the file(s) you want to edit on your website. If you want to edit the "contact" page, for example, you would probably want to edit the file named "contact.html" or "contact.php." It may be found under a subfolder, such as "html" or "website." Check with your Web developer if you aren't sure which file to edit or where it is located.
Step 4
Left click your mouse beside the file you want to edit in the checkbox. Click the "edit" button found in the navigation menu going across the top of the File Manager.
Step 5
Use the visual editor in the new window to add or edit content, or click "HTML" in the top right to open the file in HTML view. If it appears blank, click the "HTML" button to see the contents of the page.
Step 6
Modify your file and click the "Save File" icon in the top left of the editor. The "Save File" icon is an image of a floppy disk.
Step 7
Check your website to verify the changes you made.