Whether you want to start a blog, start a business, have custom email addresses or just have a website to call your own, obtaining a permanent domain allows viewers to reach you easily and gives you the polished and professional look that comes with having your own space on the Internet.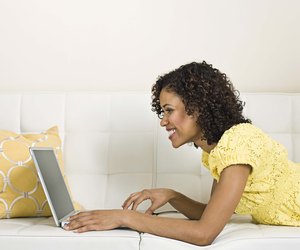 credit: Jupiterimages/Brand X Pictures/Getty Images
Step
Decide on possible domain names for your website. This will be what visitors will type in their browsers to access your site. It should be short, original and easily remembered.
Step
Choose whether you want a .com, .net, or .org domain name. Websites ending in .com are most popular, but that doesn't generally mean your website ending in .net or .org will suffer because of it. There are a host of other domain names, including .tv, .biz and .info.
Step
Choose where you want to register your domain name. GoDaddy.com (see link in References) is a popular service and offers affordable hosting packages and business options and add-ons. Even so, there are a ton of other services, including JustHost.com (see References), which offers competitively priced packages as well. Decide which service is right for you before beginning the registration process.
Step
Begin the domain name process by making sure your desired name is available. Once that is complete, continue registering your domain by supplying the necessary information to pay for the service.