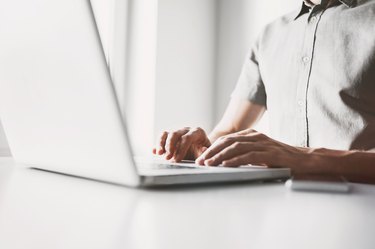 Many companies block certain file extensions, such as EXE and ZIP, from entering an email server to prevent security issues and protect sensitive information. In some instances, however, a ZIP file containing important information must pass through the filter, and an employee can request that the sender rename the file's extension to PIZ to allow the file to reach its destination address. To open a PIZ file, you must enable the viewing of file extensions on your computer, rename the extension and open the file using a file-management tool.
Show File Extensions
Step 1
Click "Start" and "Control Panel."
Step 2
Select "Appearance and Personalization" and click "Folder Options."
Step 3
Click the "View" tab and uncheck the box labeled "Hide Extensions for Known File Types."
Step 4
Click "OK" to save the changes. The files on your computer now display their extensions following their names.
Change File Extension
Step 1
Right-click the PIZ file and click "Properties."
Step 3
Highlight the ".piz" file extension after the file name and press "Delete."
Step 4
Type ".zip" and click "OK."
Step 5
Click "Yes" to accept the change. Your computer changes the file's format to ZIP.
Open the File
Step 1
Right-click the file and click "Open With."
Step 2
Select your file-management tool from the list of available programs. If your program is not on the list, click "Choose Default Program" and "Browse" to locate the program on your computer.
Step 3
Click the "File" button on the top of the program, then click "Select All."
Step 4
Click "Extract To" and select a location on your computer. The file-management program decompresses the file and transfers the contents to the desired location.