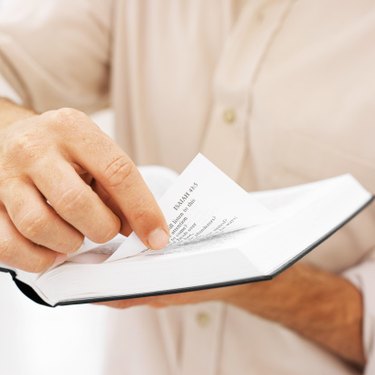 Adobe Acrobat is a software application used to create, manipulate and manage files in the PDF format. In particular, the pagination function is a useful tool for adding page numbers to a single document created from several smaller documents. In addition to the option for standard page numbering, the document can be divided into sections so that additional text, such as introduction or appendix, can be added, making the function particularly useful for organizing books or large documents. Pagination must be completed in Adobe Acrobat; it cannot be completed with the Adobe Reader software.
Step 1
Open Adobe Acrobat and select "File" and then "Open." Select the document you wish to modify from the menu. Double-click on the document to open it.
Step 2
Select "Document" from the menu bar and then choose "Number Pages."
Step 3
From the box that pops up, choose the pages you want to number in the page range section. If you want to number all pages, select the "All" circle from the page range section.
Step 4
Choose the number style from the "Number" section. Define the starting number and whether you want any prefixes, such as page or section.
Step 5
Select "OK" to finalize the page numbers.
Step 6
View the page numbers in the status bar for both the original count and the newly paginated numbers.