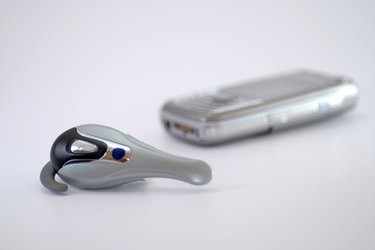 Plantronics is the maker of a variety of wired and wireless headsets for mobile phones. Wireless Plantronics headsets are based on Bluetooth technology and allow the headset and a Bluetooth-enabled phone to communicate without a physical connection. Prior to being used, the Plantronics Bluetooth headset must be paired with the Bluetooth enabled phone to establish a wireless connection. The pairing process only needs to be performed once for each mobile phone.
Step 1
Turn on the Bluetooth feature of the mobile phone. The Bluetooth feature is found in the "Settings" or "Tools" menu of most phones under "Connections." Refer to your phone's instructions for specific directions for enabling Bluetooth.
Step 2
Turn on the Bluetooth headset by pressing the "Power" button.
Step 3
Press and hold the volume up button and the call control button simultaneously on the headset for two seconds to enter pairing mode. The headset's indicator light will flash red and blue alternately once it has entered pairing mode.
Step 4
Navigate to the Bluetooth menu on the mobile phone and select the Plantronics headset model from the phone's menu. For the Plantronics Voyager 510, the display will read "PLT510."
Step 5
Enter "0000" using the phone's keypad when prompted for the passkey of the Plantronics headset. The headset indicator light will flash blue once the headset and mobile phone are paired.