Apple computers running the OS X Leopard have an added option to password protect files or folders. The password used is the administrator password on the administrator account of the computer and cannot be separate. If there are multiple users of the administrator account, separate operating system accounts will have to be made to ensure the file or folder is protected. Adding password protection to sensitive files will ensure its contents are not altered or stolen.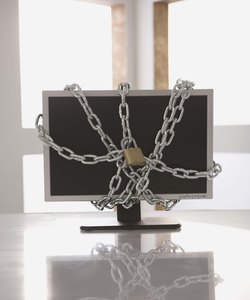 credit: Jupiterimages/Brand X Pictures/Getty Images
Step
Hold "Control" and click the file or folder you plan to password protect. This is Apple's equivalent to right clicking on a PC. This will open the "Get Info" dialogue box.
Step
Click the arrow next to "Sharing & Permissions."
Step
Click on the lock icon within the "Sharing & Permissions" window. This will bring up a dialogue box asking you to enter your system administrator password. This is the password you use when the computer first boots into OS X. Click "Ok."
Step
Click on the menu under "Privileges," and select "Write Only (Drop Box)." If there are multiple accounts on your computer, you will have to do this for each account listed in the dialogue box. Once done, click the lock icon to save your changes.
Step
Place a check maked in the "Locked" box within the "Get Info" dialogue box.