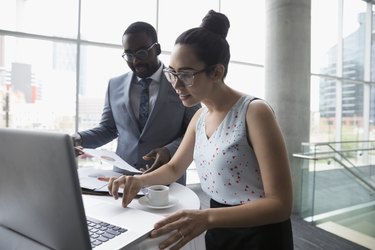 Routine maintenance for a computer involves taking regular steps that make your computer faster, more secure and less cluttered. If your computer seems slow, displays an error message about low disk space or takes a long time to boot up, doing routine maintenance can fix the issue and help your computer last longer. While some routine computer maintenance tasks prevent future problems like viruses or data loss, others free up space and even fix software bugs. Whether you have a PC or Mac, you can install updates, check for viruses, maintain your hard drive, backup files and perform other simple tasks to keep your computer in good shape.
Operating System and Software Updates
Installing operating system updates and keeping all your programs updated are important PC maintenance tasks that improve your computer's security and stability. Both Windows and Mac systems have the option to automatically download and install operating system updates, but you can manually check for updates at any time. Web browsers, productivity software, media players and other applications also need regular updates to fix bugs, improve performance and add new features. These programs might download updates automatically and prompt you to install them, or you may need to check the software's help menu or website to determine if an update is available.
Virus Protection
Your computer also benefits from having antivirus software, such as Windows Defender or Malwarebytes, that can perform real-time scans on files you download and open. This PC maintenance task helps protect you from malicious files that can slow your computer, destroy important system files or lead to theft of passwords and other personal information. When your antivirus program detects a threat, it will alert you to delete the file or move it to a self-contained location where it can't cause harm to your computer. For the strongest protection, set your antivirus software to download automatic updates to protect you from the latest viruses.
Hard Drive Maintenance
As you use your computer, temporary internet files, downloaded files and cache files build up and leave you with less hard-drive space. Running utilities such as the built-in Disk Cleanup for Windows and third-party programs like CCleaner for Mac can locate and clear these files for you. Since visiting many websites collects files that can make your web browser sluggish, it also helps to check your browser's preferences or settings to find its option to clear the cache or temporary internet files.
In addition to removing junk files, occasionally checking your hard drive for unused programs and files you no longer use and removing them can restore space. If you're a Windows user, you can also try the built-in defragmentation utility, which reorganizes the data on your drive so your computer can boot up and access files faster.
File Backups
Creating regular file backups prevents data loss and can even provide a copy of your entire system in case of a hard-drive crash or destructive virus. Backup and Restore for Windows and Time Machine for Mac are native backup and restore utilities that can create a full system image, back up selected files and let you set a frequency and time for future backups. You can use an external hard drive, flash drive or DVDs to save your backups and then use the utility to easily restore individual files or return your computer to a previous state. If you prefer storing important files online, you can use OneDrive, Dropbox or another cloud storage service to have more flexible access to your data on any device that can access the service's website.
Other Routine Computer Maintenance Tasks
Another computer maintenance step is to restart your computer at least weekly or whenever you experience system slowdowns or bugs. A simple restart is usually quick and clears your computer's memory, lets any updates finish installing and even fixes issues that can cause your computer to lock up or make your internet connection unstable. To keep your computer physically maintained, it's helpful to regularly wipe down your computer, monitor and accessories with a lint-free, soft cloth. You can also use canned air to safely clear dust out of vents and small spaces and avoid issues with overheating and blocked airflow.