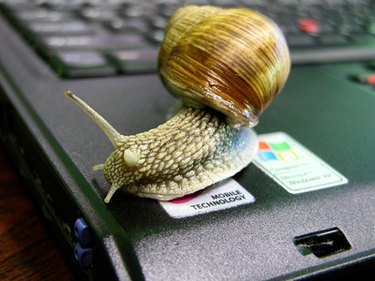 HPs, like any other computer, tend to slow down over time. After years of watching your performance degrade, you may be considering buying a new computer or wiping and reinstalling your operating system. Though these drastic options would certainly return you to faster computing, they may be unnecessary. With a bit of work you may just be able to provide the performance boost you're looking for without spending any money or dealing with the hassle of a drive format.
Review Startup List and Remove Unnecessary Items
Step 1
Click "Start" from your Windows desktop.
Step 2
Click "Run" in XP or type "run" in the start search box for Vista/7 and hit "Enter."
Step 3
Type "msconfig" in the run box to open the System Configuration Utility.
Step 4
Select the "Startup" tab.
Step 5
Scroll through the list and deselect applications that you do not need running every time your computer starts. Often applications will automatically install quick launchers or other helper programs to auto-run. These apps run every time you turn on your computer, using up valuable memory space.
Step 7
Click "Start" from the Windows desktop.
Step 8
Select "Programs" and click "Startup."
Step 9
View the list of applications in the startup menu.
Step 10
Right-click on any applications that you do not require and click "Delete." The application itself will not be deleted, only its shortcut. This will stop Windows from launching these applications every time to turn on your computer while leaving you the ability to use them when you like.
Clean Up Malware
Step 1
Download an anti-malware application such as Malewarebytes, Microsoft Security Essentials, Avast or Avira AntiVir and save it to your desktop. These applications are all free of charge and readily available on the Internet.
Step 2
Double-click the executable you downloaded. Follow the onscreen instructions to navigate the installation procedure.
Step 3
Update the anti-malware application to ensure its virus definitions are up to date.
Step 4
Run a complete scan of your system and remove any infections that the software locates. Viruses and spyware can use large amounts of system resources causing your performance to drop significantly.
Step 5
Update and scan your computer at least once a week to prevent infection and maintain performance.
Defragment Your Hard Drive
Step 1
Click "Start" from the Windows desktop.
Step 2
Click "Programs," select "Accessories" and select "System Tools." Click "Disk Defragmenter."
Step 3
Click "Analyze" to allow the utility to scan your drive to determine if a defragmenting is required.
Step 4
Click "Defragment" to begin the process. The utility will take files that were broken up and saved in fragments and bring them back together and rewrite them in contiguous segments. This can significantly increase disk read times and make your computer more responsive.