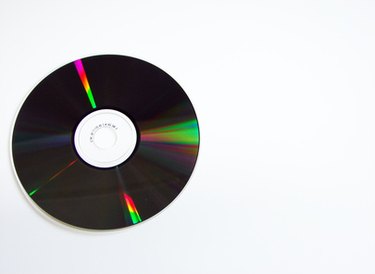 The Sony Vaio laptop computer is equipped with a DVD-ROM drive that can play back compact discs and DVDs using the Windows Media Player software installed on the computer as part of the Microsoft operating system. Use Media Player to view and listen to DVDs on the laptop, either with the Vaio's built-in stereo speakers, by connecting a set of external speakers or though headphones for private listening. Windows Media Player starts automatically when a disc is loaded in the DVD-ROM drive.
Step 1
Press the "Eject" button on the right edge of the Sony Vaio to release the DVD-ROM tray.
Step 2
Place a pre-recorded DVD in the tray, shiny-side down, then slide the tray closed until it clicks in the locked position. Windows Media Player should start automatically.
Step 3
Click the "Start" or Microsoft four-color flag button in the lower left corner if Media Player does not launch automatically. Click "All Programs" then highlight and double-click Windows Media Player from the list that will appear.
Step 4
Use the up, down, left and right arrow keys on the keypad to navigate the options on the menu screen for that particular DVD. Highlight "Play" on the screen and press the "Enter" key to start the movie. Click the triangle-shaped Play key on Windows Media Player to pause the movie. The arrow keys to the immediate left and right of the Play key will rewind or fast-forward through the movie. The round button with the black square in the center is the Stop key. Adjust volume on Media Player by clicking and dragging the slider control on the lower right edge of the screen next to the speaker icon.