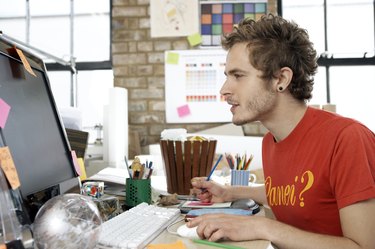 X264 is a free, open-source plug-in application for encoding and decoding video streams to H.264 and MPEG-4 formats. One of the most powerful encoders for playback of Internet videos and DVD and Blu-Rays, X264 comes as an added feature on many video playback programs, including VLC Media Player. Since VLC Media Player is also a free program that comes with a built-in X264 encoder/decoder, users may play X264 video simply by downloading the most up-to-date version of VLC Media Player and loading the video in the main player window.
Step 1
Open your Internet browser and visit the VideoLan website (see Resources). Click on the correct download option depending on your operating system (e.g. Windows ME, Windows 7, etc). No special installers are needed to download VLC Media Player.
Step 2
Double-click the downloaded ".exe" installation file to begin the install process. Choose a location on your hard drive where you want VLC Media Player installed (default installation location is in your "C" programs drive).
Step 3
Agree to the terms of use and open VLC Media Player.
Step 4
Click "Media" then "Open File..." at the top of VLC's main menu to enter a new Windows Explorer screen. Browse your computer's contents for the X264 video you want opened, highlight its icon, and click "Open." Your X264 will begin playback automatically.