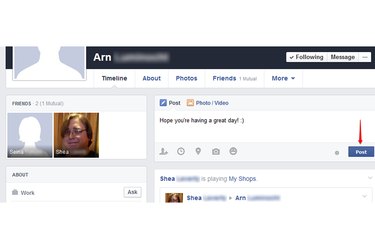 With Facebook's Timeline feature, you can drop your friends messages -- and clog their feeds with goofy cat pictures. In any case, your friend's Timeline can only be accessed through his profile page, not your news feed or the Facebook landing page. After you find his profile, you can post your messages, links -- and even the latest ridiculous meme -- in a few quick steps.
Posting Messages
Step 1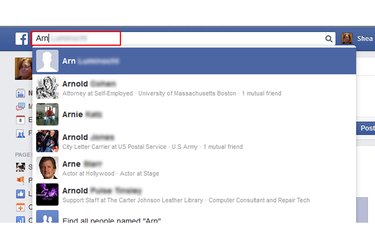 Search for your friend using the search bar. While anyone with the same name appears in the list, people on your friends list appear first with their profile pictures, making it easier to find them.
Step 2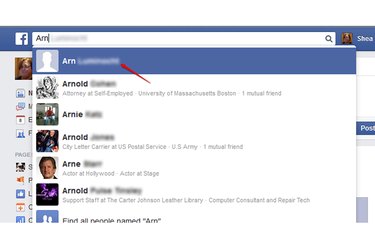 Find your friend's name on the list and click it to load his Timeline.
Step 3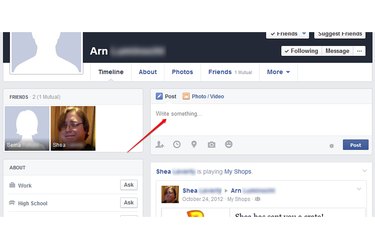 Click the "Write Something" text field and begin writing a message. Your message can be about anything, but all of your friends and their friends will be able to see it.
Step 4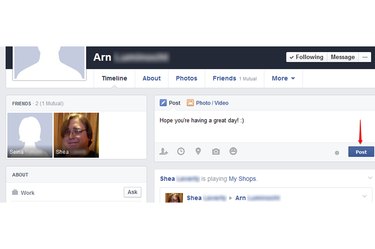 Click "Post" when finished to post your message onto his Timeline. He'll receive a notification immediately if he's online or at his next log-in if he isn't.
Posting Links
Step 1
Type a brief description or note in the "Write something" text field to let your friend know why you are sharing the link with her or why she might enjoy it rather than pass it over.
Step 2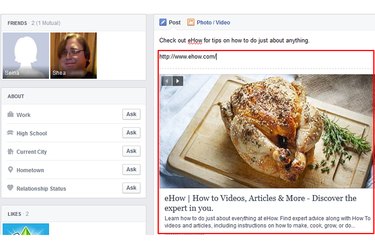 Paste the link into the text field at the end of your message. The link should load a preview pane on the message, which usually displays the website's title, a preview picture and a brief description. If the page has no primary image, then no preview picture appears.
Step 3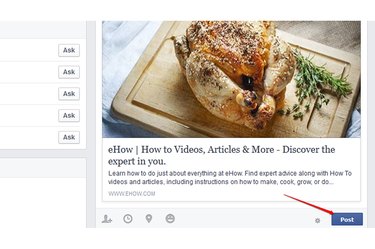 Click the "Post" button to share the link and message with your friend.
Posting Images and Video
Step 1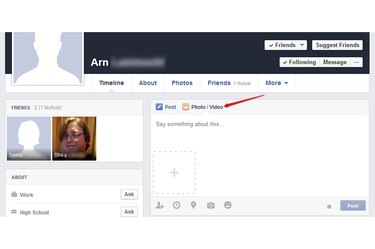 Click the "Photo/Video" option at the top of the "Write Something" box. Add a message to accompany the picture by typing in the box, which should now say "Say something about this."
Step 2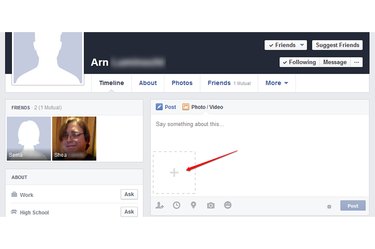 Click the box with the "+" symbol inside to open a window for selecting an image or video.
Step 3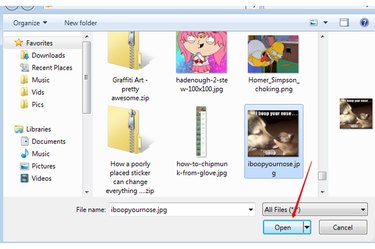 Select the picture you want to add and click "Open" to add it to the post. Both videos and images can be selected from this window.
Step 4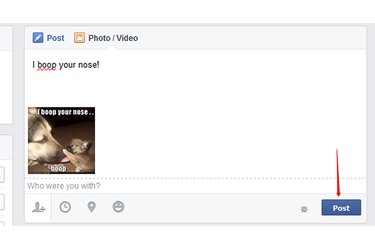 Enter the names of anyone in the picture in the "Who were you with?" text field, if applicable. Then click "Post" to add the picture to your friend's Timeline.