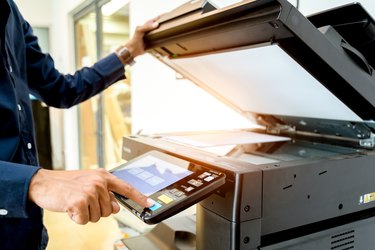 PDF files have become an indispensable element of modern content sharing and document creation today. Individuals around the world use PDF files to quickly share and disseminate high quality content without the burden of large file sizes. Not only is sharing PDF files relatively easy, printing these documents can be accomplished without much trouble at all. If you would like to print either a single-sided or double-sided PDF, you can do use quickly using a series of relatively simple steps.
Exploring the Basics of PDF Files
The term 'PDF' is an acronym which stands for 'Portable Document Format'. The genesis of this particular format stemmed from a need to share and view documents across a wide array of devices and with complete consistency and accuracy. Prior to the invention of the PDF format, it was not uncommon for individuals to lose access to received files when switching between software or computers. The PDF format fundamentally resolved this issue and greatly improved general operational efficiency.
Today, the PDF format is considered by many individuals to be the "go-to" format for virtually all document needs. Virtually all of the major word processing programs in existence today allow individuals to quickly save and export documents as PDFs whenever they are needed.
Converting PDF Documents
In many situations, individuals can also convert documents they have received into PDFs specifically for the purpose of printing them. This helps to ensure that all of the formatting which may have been included in the original document finds its way into the printed copy. Particularly in situations where different word processors are being used and files are being shared across operating systems, PDF conversion is highly recommended
How to Print Double Sided PDF Documents
In order to ensure that you print a PDF file on both sides of the page, you will need to customize your computer's current print settings. Keep in mind, however, that you will only be able to print a double-sided PDF if your printer allows double-sided printing.
In the event that double-sided printing is your supported, your first step should be to open the 'Print' window dialogue for your word processor. Once this has been accomplished, you will need to locate the specific option related to double-sided or 'duplex' printing. In a Windows computer, you will likely see an option to "Print on both sides of paper". You will need to select this.
If the print on both sides option is missing, you may not be able to print a double-sided PDF automatically, because your printer probably doesn't support the option. That being said, you can simulate double-sided printing by first printing even-numbered pages and selecting the 'Reverse pages' option that appears. After these pages print, you can reinsert the printed pages and print the odd-numbered pages on the unprinted sides of the page.
Understanding Double-Sided Printing Layouts
Once duplex printing has been selected, you will be required to determine how your printer manages the second page relative to the orientation of the first page. For example, you will likely have the option for 'back-to-back' or 'front-to-back' layouts, depending upon your specific needs.
If you are unfamiliar with these terms, you might consider creating a few test prints in order to explore how various duplex layouts look. This will ensure that you have all of the information you need to make the right choice when it comes to your next print. With time, you should be able to quickly determine the best possible solution for your printing needs.