When attempting to print certain documents on a Hewlett-Packard LaserJet all-in-one printer, you might sometimes end up with a piece of paper with a "PCL XL" error code printed on it. This is due to the printer's inability to process certain parts of the document, such as embedded fonts or images. You can get rid of this error message and print your document by editing the printer's settings on your computer.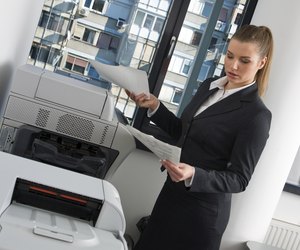 credit: Dean Bertoncelj/iStock/Getty Images
Step
Open the Windows Charms bar by swiping in from the right edge of your screen or by moving your mouse cursor to the top-right corner of your screen and sliding it down. Select "Settings."
Step
Click "Control Panel," and then select "View Devices and Printers."
Step
Right-click on your printer's icon and select "Printing Preferences." Alternatively, if you have a touchscreen device, touch and hold the icon until the context menu appears, and then select "Printing Preferences."
Step
Open the "Advanced" tab, set the Print Data Optimization option to "Optimize for Text and Vector," and then click "Apply."
Step
Print a document to test your new settings. If the document fails to print, power the printer off and turn it back on again before attempting to print the document again.