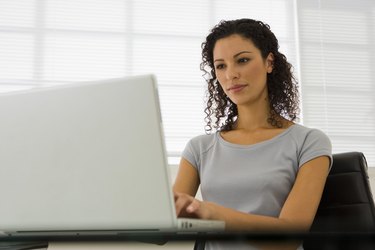 Satellites and other technological developments allow online map applications to provide detailed satellite images and interactive maps for route planning. With Google Maps, users create custom maps or get personalized directions for travel. You can take these maps with you by printing them for later reference. Google Maps features a print tool that converts custom maps into printer-friendly images.
Step 1
Open your Web browser and navigate to the Google website. Click on the "Maps" link at the top of the page.
Step 2
Click on the "Get Directions" button on the left-hand side of the page. Enter your search parameters. For directions to and from certain locations, enter your locations in the given fields. If you only want a map of an area, enter the area name in the "A" field. Click on the "Get Directions" button.
Step 3
Click on the "Print" link above the map on the right-hand side of the page. A pop-up window with your map or route will appear.
Step 4
Center your map as you would like it to appear when it is printed. Use the bar on the left-hand side of the map to zoom in or out. Left-click and hold within the map to move the map up, down or from side to side.
Step 5
Select the "Print" option from your browser's menu if you are only printing a map of an area. The "Print" option is usually in the "File" menu at the top of the browser. The map will be sent to your printer exactly as it appears in the page.
Step 6
Customize the appearance of your route if you are printing directions from Google Maps. At the top of the pop-up page, you have the option for "Text Only," "Map Only" or "Street View." Select one of these options, or combine text with your map by selecting the "Include large map" option with the "Text Only" option. Click the "Print" button in the upper right-hand corner to print your map.