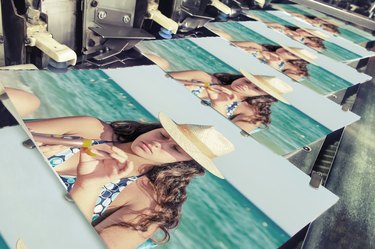 Videos are often chock-full of images that would be amazing as still photos. If you have a video file that you're itching to turn into a stack of glossy photos, there are a number of ways to approach the task–fortunately most of them are simple and straightforward. Printing your photos won't take much longer than a couple hours, and most of your time will be devoted to picking out the perfect frames to print.
Use Quicktime Player
Step 1
Download the free video player QuickTime from the Apple website. Quicktime is available for Windows and Mac OS X, and can be used to print a single frame from most common video file types.
Step 2
Double-click the QuickTime installation file and follow the onscreen instructions.
Step 3
Launch QuickTime and select "File" then "Open" and navigate to the video file that you want to print a photo from.
Step 4
Click on the bar at the bottom of the screen and move the slider until you find the frame you would like to print.
Step 5
Select "File" and then "Print." Choose your printer from the menu, then click "Properties" and specify the layout and paper type for your photo.
Step 6
Click "OK" and your photo will print.
Use MPEG Streamclip
Step 1
Download the program MPEG Streamclip from the Squared 5 website. MPEG Streamclip is a free video converter for Mac and PC–among other functions it can save a single frame of video as an image file.
Step 2
Open MPEG Streamclip and click "File" then "Open File," and select your video.
Step 3
Navigate to the frame that you want to print and click "File," then "Export Frame." Choose the level of quality and file type and click "OK." The frame will be saved as an image file.
Step 4
Open the image file in the viewer of your choice and print it.
Take a Screen Capture
Step 1
Open your video file and run it in the player of your choice.
Step 2
Pause the video when it comes to the frame you want to make into a photo.
Step 3
Hold down "Alt" and click "Print Screen" on a Windows computer or hold down the "Command", "Shift" and "4" buttons in that order on a Mac. On a PC, this will take a picture of whatever is in the active window on your desktop and save it to the clipboard. On a Mac, use the crosshairs to select the section of the screen you want to copy.
Step 4
Open the image editing or word processing program of your choice and create a new file. Right-click the empty document or image and select "paste." A copy of the image in the frame should now be pasted into your document.
Step 5
Navigate to the print function within the program, select your printer and print the image.