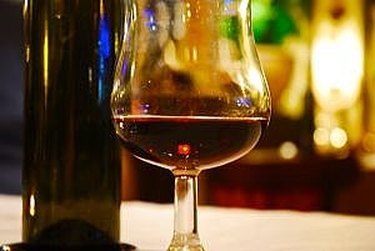 Custom wine bottle labels make great wedding favors, or gifts. They're easy to print on your home computer, and you can make them as fancy or plain as you'd like. You can re-label someone else's wine or bottle your own wine. You can even use this how-to to label wine bottles that contain something other than wine like homemade vanilla extract and other treats.
Step 1
Open up a graphic program like GIMP (which is free) and start a new document in the size of your labels at 300 dpi resolution.
Step 2
Get some great clipart from a stock site like istockphoto.com or sxc.hu. An illustration will make a great logo for your vineyard.
Step 3
Add your text. Typical wine bottle labels mention the vineyard's name, when the wine was bottled, and the type of wine it is. You can also mention the special occasion and date if you're printing wine labels for a wedding or shower. Use a fancy font to give your printed wine labels some flair!
Step 4
Labels usually come with a guide sheet. Print your label on a plain sheet of paper (not a label) and hold it up to the guide to see if it's printing in the right place. If it's not, follow the instructions on the package of labels to make sure your wine bottle labels print just right.
Step 5
Print as many custom wine bottle labels as you need for your project. Be sure to save your wine bottle label file so that you can use it again in the future.