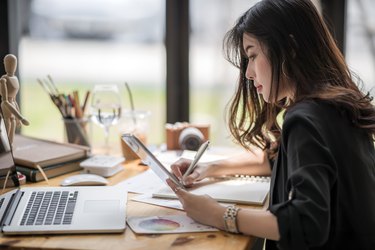 A candy bar with a custom wrapper makes a great party favor. When your guests enjoy the candy, they'll remember your special event. If you'd rather make your own wrappers instead of paying for custom printing, you can use Microsoft Word and your printer. Although Microsoft no longer provides a candy bar wrapper template, it's relatively easy to create your own wrapper design in Word.
Measuring Your Candy Wrapper
The first step in creating a custom wrapper is measuring the candy bar you plan to customize. Carefully remove the wrapper from a bar and lay it flat. Use a ruler to measure the front, back and sides of the wrapper. Alternatively, you can search online for the exact measurements of your candy bar. For example, Hershey bar wrapper dimensions are published widely online as 5.3 inches by 5.25 inches (13.5 cm by 13.3 cm).
Creating Candy Wrapper Graphics
To create your wrapper, open a new blank document in Microsoft Word. Insert a graphic image for the wrapper's background. You can use "Insert Pictures" if you have a picture file or "Insert Online Pictures" to search online for clip art. You can also begin with the image of an actual candy wrapper, such as a Hershey bar, which is readily available online. After you insert the picture, select "Size and Position" from the right mouse button menu and change the picture width and height to match the dimensions you're using for your wrapper. Next, add text boxes and shapes to customize the wrapper. You can also insert additional pictures from files, including personal photos for a birthday party or wedding.
Downloading a Candy Bar Wrapper Template
If you'd rather use a Word template than create your own wrapper from scratch, there are many sites offering free candy wrapper templates for Microsoft Word that you can download. It's important to only download templates from reputable sites since you run the risk of installing malware. If the site is trusted, follow instructions provided for downloading and loading the template and customizing your own candy bar wrapper in Word.
Finishing Your Candy Bar Wrappers
You may have to experiment a bit to get exactly the right look for your wrapper. Once you're satisfied, print out the wrapper and use a paper cutter to trim off excess paper around the outside edge. Fold the wrapper around the bar and attach with tape or a glue stick. If you are wrapping a large number of bars, you may want to have your customized wrappers printed professionally.