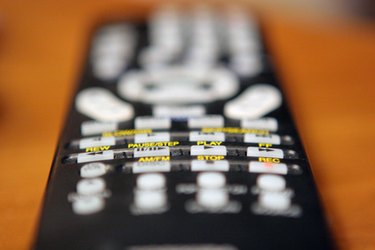 Ridding yourself of another remote control is another way to further the enjoyment of your surround sound system. With the remote control and user manual, you can program your dish remote for your surround sound system in about 10 minutes or less. To program the remote, you will need the user manual for the codes. The codes can also be found on the Dish Network website.
Step 1
Press and hold the "AUX" button for about three seconds. When the other mode buttons light up, release the "AUX" button. The "AUX" button should remain flashing.
Step 2
Press the number 2 on the number pad then enter one of the device codes listed in the user manual followed by the pound (#) sign. If you entered the code correctly, the "AUX" button will flash three times.
Step 3
Press the power button. If the code works for your unit, your system should turn off. If the system does not turn off, repeat the steps with a different code from the device code list.