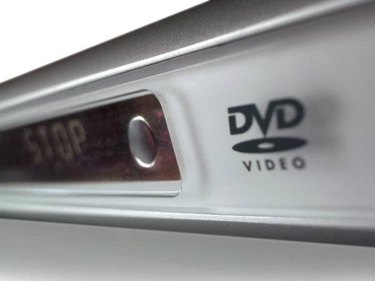 Dish Network service integrates very well with many different devices. Not only can you continue to use your DVD player with your satellite service, you can also program your Dish Network remote to control it. If you have DVR service, you can use the DVR buttons to play, search and pause your DVD player. If you like, you can even set up more than one DVD player or add a VCR to your system setup.
Step 1
Connect the coaxial cable from the output on the back of your Dish Network receiver to the "Antenna In" connector on the back of your DVD player. Connect the DVD "Out" connector to the input on your television using a separate coaxial cable.
Step 2
Set the DVD player to use either channel 3 or 4 on the back of the unit and turn it on. Turn on the television and tune it to the same channel you set for your DVD player.
Step 3
Look in the user manual for your Dish Network receiver for the DVD player's remote codes. Press and hold the "VCR" button until the "SAT," "TV" and "AUX" buttons all light up at the same time. The VCR button should begin to flash. Enter one of the three-digit device codes that you found for your DVD player. Press the "Power" button. If the device doesn't turn off, try another code. If your remote code isn't listed in the manual, press and hold the VCR button again. Press the "Power" button again and then press the up arrow repeatedly. When the DVD player turns off, press the pound key.
Step 4
Test the remote to ensure that it's working properly with your DVD player. Press "VCR," then press the power and channel buttons to see if they work. If you have Dish Network DVR, test the DVR buttons to see if they work with your player. Insert a disc into the player. Press the "Play" button on your Dish Network remote. Press "Stop," "Rewind," "Fast Forward," "Pause" and other buttons to ensure that they are controlling your DVD player instead of your Dish Network DVR. Press the "SAT" button to switch back to satellite mode.
Step 5
Tune to your desired programs using your Dish Network receiver rather than the DVD player or television. To do this, always press the "SAT" button on the remote prior to making a channel selection.