If you're new to Verizon FiOS or just got a new TV, programming your remote can be a daunting task, but it doesn't have to be. The remote actually comes from the factory in working condition. The only things that won't work until you program it are the volume controls. Also, you will not be able to use the remote with other devices, such as a DVD player, until you program it. To program your TV and other devices, you need their four-digit FiOS codes.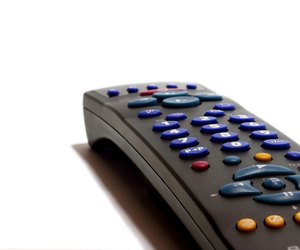 Get Codes
Step
Turn on your television and FiOS set-top box.
Step
Press the "Menu" button and scroll down to Help. Press the right arrow on the remote. Once on the In-Home Agent title, press the right arrow again. Scroll down to Program Remote and press "OK," then "OK" again.
Step
Select your remote on the guide listed. It is most often the first option listed, but if you're unsure, open the back of your remote where the batteries are and find the model number. Match that with the remotes listed. Press "OK" and select the device you want to program -- i.e., TV, DVD, Surround Sound. Press "OK."
Step
Use the arrows on the remote to spell the name of the device you are trying to program, pressing "OK" for every letter you want. As you select letters, FiOS narrows down your choices. Press the right arrow until you are on the available choices and press "OK" on your device.
Step
Press "OK" again to get all the codes for your device.
Program Your TV
Step
Press and hold down the "TV" button on the remote for a few seconds and press the "OK" button at the same time.
Step
Release the buttons, and they should both blink twice.
Step
Enter the four-digit code for your TV and wait for the red light to blink three times.
Step
Press the Power" button while aiming the remote at your TV. If it works, your TV is programmed. If not, try another code following the same process.
Step
Repeat this process for each device you want to control with your remote, pressing the appropriate button in place of the "TV" button.