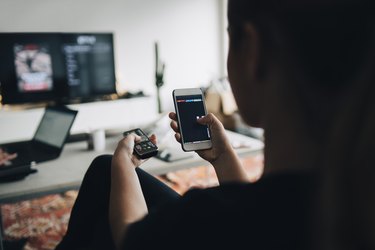 The Verizon FiOS service provides an all-in-one internet, telephone and TV service to customers across the United States. Powered by an industry-leading fiber optic connection, the FiOS service can supply virtually all of a home's connectivity needs when it comes to entertainment and productivity. If you have recently subscribed to the Verizon FiOS service, you most likely received a variety of hardware devices. The remote included with your FiOS bundle can be programmed easily using a series of relatively simple steps.
Tip
The steps you use to program your Verizon FiOS remote are determined by the specific model of hardware you have. Fortunately, you can program your remote quickly regardless of which model you received.
Exploring the Basics of FiOS
When you initiate your Verizon FiOS service, you receive a combination of hardware devices, each of which is used in conjunction with the others to power your home or office connectivity. The remote included with your Verizon FiOS setup may be one of several models that are available. The Verizon website currently lists five different models of remotes that can be used in conjunction with its cable hardware.
The remote acts as the gateway to your Verizon FiOS TV service. Whether you are interested in watching regular cable programming or are planning to access streaming content, your remote is the tool you use to facilitate this process.
How to Program Your FiOS Remote
When you are ready to program a Verizon remote, your first step is to determine which specific model you have. The steps included here are for the popular Verizon P265 remote. However, additional information regarding all the other available remote devices is available through the Verizon website.
Turn on both the TV and the set-top box and verify you are able to watch TV. Press the OK and FiOS TV buttons simultaneously and hold them for 5 seconds before releasing them at the same time. After releasing both of the buttons, the remote control blinks a red light twice, and then the light remains on.
Your next job is to find the specific programming code that pairs your remote with your TV. To do this, press the Play/Pause button on the remote and then release it after 1 second.
Finding FiOS Remote Codes
Continue to press the Play/Pause button and release it until your remote locates the right code. You will know that you have the correct code when your TV shuts off. After the TV powers down, release the Play/Pause button.
As a final step, press the TV Power button one more time to turn your device back on. Then, press the OK button. This saves the current configuration so you can instantly be in control of FiOS TV service with your remote the next time you decide to use it.
If you experience technical difficulties with your hardware, Verizon customer support is available to help you with any problems. You may find that visiting the Verizon online page for troubleshooting remote programming can also provide some assistance with any problems that come up. If you are still unable to program your FiOS box, you may need to troubleshoot the other hardware included in your FiOS setup.