Working with vector layers allows you to scale objects without losing detail or producing jagged edges, but it does prohibit the use of filters. The filters work by adjusting the pixels of a layer, which is not possible with vectors. Photoshop allows you to rasterize a layer from the Layer menu or from the Layer window. Bear in mind that it is not possible to convert a rasterized layer back to vector after applying any filters or effects. Information in this article applies to Adobe Photoshop CC. Procedures may vary slightly or significantly with other versions or products.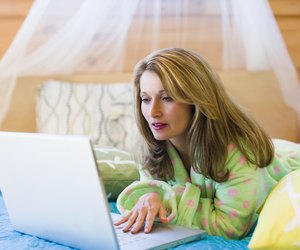 credit: Purestock/Purestock/Getty Images
Select the Correct Layer
Photoshop offers multiple methods to rasterize a layer, but it is important to perform the conversion on the correct layer. Press "F7" to view the Layers window and ensure that the right layer is highlighted. The layers are displayed using the names you have created or by their default titles, such as "Shape 1" or "Textlayer."
Use the Layer Menu
When you are sure that you are working with the correct layer, select "Layer" from the menu bar and choose the "Rasterize" option. This will display a drop-down list of options, although not all options may be available, depending on the type of layer. You can rasterize individual elements of a layer, such as the type or shapes, but to rasterize the entire layer, select the "Layer" option.
Use the Layer Window
Another method to rasterize a layer is to right-click it from the Layers window and then select "Rasterize Layer" from the context menu. The thumbnail next to the layer name changes to indicate that the layer is successfully rasterized. When attempting to apply a filter to a vector layer, Photoshop also automatically displays a prompt asking if you want to rasterize the layer first.