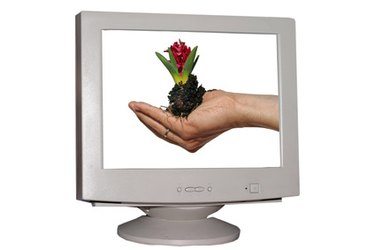 A transparent GIF is useful in many different situations. Because the background is transparent the image can be applied to almost any graphic project, from clothing to websites without losing it's effectiveness. Microsoft paint, a graphics program that is included free with Windows, that can be used to render image backgrounds transparent.
Step 1
Click the "Start" logo followed by "All Programs." Select "Accessories" from the list, then click "Paint." The Paint program will open in a new window.
Step 2
Open the image that you want to manipulate by clicking "File" in the top-left corner of the screen, followed by "Open" in the drop-down menu. Navigate to the image in your system from the "Open" window, and click the "Open" button on the window when you have found the image.
Step 3
Click the "Tools" menu text at the top of the window and click "Free-Form Select." Using the tool, trace the area of the image to be made transparent. In the "Options" box to the left of the work area, the option to make the background transparent will become available.
Step 4
Select the icon for transparency in the Options box. The selected area will be rendered transparent.
Step 5
Click "File," followed by "Save As" in the drop-down menu. The "Save As" window will appear.
Step 6
Type the name you wish to save the image as in the text box, and select ".gif" from the "Save as type" menu. Click the "Save" button to save the image.