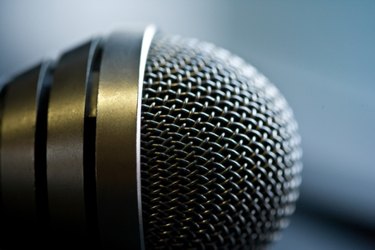 IMovie, the home enthusiast's video editing software included in Apple's iLife suite, is packed with special effects tools to bring sparkle and pizazz to your home video projects. If you want to add audio from your iTunes library, the two programs work seamlessly together. If your iMovie requires custom sound effects or voiceover narration, you can quickly record audio directly into your video project to accompany the clips.
Step 1
Open the iMovie project that you want to record audio to. Press the O key to bring up the "Voiceover" window. Alternatively, click on the "Microphone" icon in the toolbar.
Step 2
Select your microphone input option in the "Record From" pop-up menu. Choose "Built-in Microphone" if you do not have an external microphone attached. Adjust the baseline volume by dragging the slider left or right. Adjust the "Noise Reduction" slide to prevent background noise. Check the "Voice Enhancement" box to electronically alter your voice, and check "Play project audio while recording" to listen to your audio through headphones as you record it.
Step 3
Place your cursor on the video frame in your "Project Library" where you want the recorded audio to begin. The pointer turns into a microphone. Wait for the iMovie prompts, which counts down from three to one, then speak into the microphone.
Step 4
Click anywhere in the clip to stop recording. Note the purple bar that appears below the clip where the audio will be heard. Click the "X" to close the button in the "Voiceover" window to close it before working again with the video project.
Step 5
Place your cursor on the clip and press the spacebar once to preview the audio. Press it again to stop.