Record a webinar as a video file by using one of three free screen-recording applications: CamStudio, Webinaria or Ezvid.
Tip
Webinar platforms sometimes upload past webinars to YouTube or other video-sharing platforms. Before spending time downloading and installing a third-party application, ask the person or entity in charge of the webinar whether a recording will be available after the session is over.
Record the Webinar With CamStudio
Step 2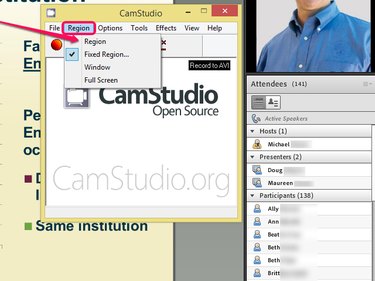 Launch the program, open the Region menu and select Region. This setting lets you record only the region of your screen that contains the webinar instead of the entire screen, therefore reducing the size of the video.
Tip
Select Window if you would rather capture your entire browser window or Full Screen to record your entire screen, including the Taskbar.

If you wish to record the webinar's audio feed in addition to the video, open the Options menu and select Record Audio From Speakers.

Step 3
Click the Record button. Drag the cursor on your screen to select the region you want to record. CamStudio automatically starts recording the screen after you select the region. Play the webinar. When it ends, click the Stop button to save the video file to your hard drive.
Record the Webinar With Webinaria
Step 2
Launch the application and open the Options menu. Select Entire Screen or Window, depending on whether you want to record the entirety of your screen or just the browser window that contains the webinar. Confirm your selection by clicking Select.
Step 3
Start recording the webinar by clicking the Record button in the Record tab and selecting where you would like Webinaria to save the video file. After you select a directory for the video file, Webinaria automatically starts recording. Double-click the Webinaria icon in your Taskbar and click Stop to end the recording. Click the Save button to save the movie to your hard drive.
Record the Webinar With Ezvid
Step 2
Click the Capture Screen icon and select Start Capture Now to start recording the screen that contains the webinar. When the webinar is over, click the Stop button to stop recording. Ezvid saves the video in a proprietary format on your hard drive. Alternatively, click the Upload to YouTube button to share the recording of the webinar on YouTube.
Warning
Stay clear of legal trouble by asking the person or entity that holds the rights to the webinar for permission before sharing the video file.