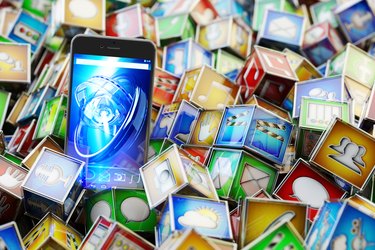 While the default applications on your iPhone cannot be removed from your home screen, downloaded applications from the iTunes App Store are removable when the iPhone is connected to your Macintosh or Windows-based PC. In iTunes 9, the iPhone's application preferences displays your device's home screen and allows you to select which applications and included and excluded from the iPhone synchronization process. Although unchecked applications won't appear on your iPhone, they will remain in the Applications section of iTunes and can be re-added later.
Step 1
Plug the iPhone's docking cable into the Mac or PC's USB port and into the iPhone to automatically start iTunes.
Step 2
Click the name of your iPhone underneath the "Devices" section found in the iTunes side menu.
Step 3
Click the "Applications" tab, and click the checkbox next to the application name to remove it from the syncing process.
Step 4
Click "Apply" to update your iPhone, and click "Eject" on the device's tab to unplug it from your computer.
Things You'll Need
iPhone cable

iTunes 9 or later