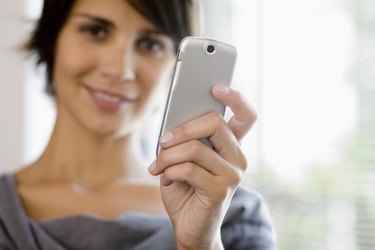 The iPhone organizes photos in years, collections, moments and albums, and as you browse through these categories, you can delete photos by selecting them and tapping the Trash icon. To delete multiple photos at once, choose the "Select" feature, select several photos and then tap the Trash icon. When you delete an album, only the container is deleted, and the photos inside move to the Camera Roll. You can delete all the photos from your Camera Roll after importing them to a computer by clicking "Delete" when prompted in Windows or OS X.
Delete From the Photos App
Step 1
Select a year, collection or album from which to delete photos. The Photos app displays the current view in the menu bar; you can view individual photos by selecting an album or collection. If you're in the Years view, tap a collection to view its moments. IOS automatically organizes these categories by date and location. To switch from Collections view to Albums view, tap "Albums" in the navigation bar. To delete an album, select the album and delete its contents before deleting the container.
Step 2
Tap "Select" and choose one or more photos. The selection screen displays a check mark over selected photos, and in the menu bar, it shows options for moving and deleting photos. This step is the same if you're deleting photos from a collection; tap "Select" and choose the moments to delete.
Step 3
Tap the Trash icon and choose "Delete" when prompted. To delete an album after removing its contents, tap "Albums" and select "Edit" in the menu bar. Tap the "-" sign next to an album, then choose "Delete" when prompted. This process permanently removes your photos and frees up memory on your iPhone.
Delete After Importing to a Computer
Step 1
Connect your iPhone to a computer using the iPhone's USB cable. In OS X, iPhoto automatically opens and displays your photos. In Windows, if the import wizard doesn't automatically open, launch File Explorer, right-click your device in the Computer section and select "Import Pictures and Videos."
Step 2
Import your Camera Roll to your computer. In OS X, click "Import Photos." In Windows, click "More Options" and select "Delete Files From Device After Importing" in the pop-up window. Choose "OK" to close the small window, then click "Import" to copy your photos to My Pictures.
Step 3
Delete the photos from your iPhone after importing them to OS X by choosing "Delete Items" in the confirmation dialog. In Windows, your Camera Roll is automatically deleted.
Warning
Information in this article applies to iOS 7, OS X 10.9 and Windows 8.1. It may vary slightly or significantly with other versions.