Most Internet users install Yahoo Toolbar inadvertently as they download and install free software. Many freeware developers use third-party installer clients to monetize their free services. As you download and install these clients, you also install advertised browser plug-ins (including the Yahoo toolbar). Some installers hide the decline button that would otherwise help you opt out of such installations. If you do not require the Yahoo toolbar, you can remove it using your Internet Explorer, Firefox and Google Chrome browser add-ons or extensions manager.
To Disable in Internet Explorer
Step 1
Click the Tools option from the menu bar and select Manage Add-ons in the resulting drop-down menu.
Step 2
Click Toolbars and Extensions in the left panel and select Yahoo! Toolbar for IE in the main panel. Click the Disable button to deactivate the toolbar and restart your Internet Explorer browser.
To Remove From Firefox
Step 1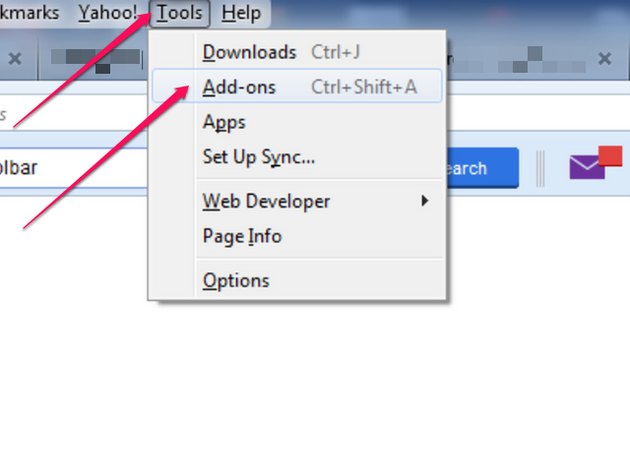 Open Firefox and click Tools in the menu bar. Select Add-ons from the drop-down menu to open the Add-ons page.
Tip
Alternatively, type about:addons in the address bar and press the Enter button in your keyboard to access the Add-ons page.
Step 2
Click Extensions in the left panel to reveal a list of all extensions in your Firefox browser. Select Yahoo! Toolbar from the main panel and click the Remove button.
Step 3
Click the Restart now hyperlink to restart Firefox.
To Remove From Google Chrome
Step 1
Open Google Chrome and click the Menu button next to the address bar. Mouse over the More Tools menu option and click Extensions from the sub-menu to open the Extensions page.
Tip
Alternatively, type chrome://extensions/ in Google Chrome's address bar and press Enter key in your keyboard to open the Extensions page.
Step 2
In the Extensions page, click the trash can icon next to Yahoo Extension. Click the Remove button in the resulting Confirm Removal dialog to delete Yahoo Toolbar from Google Chrome.
Remove From Control Panel
Uninstalling the Yahoo toolbar from your computer's Control Panel module ensures that you delete the Yahoo search bar from Internet Explorer and your computer.
Go to your computer's Control Panel and select Uninstall a program. Right click Yahoo Toolbar in the programs list and click Uninstall in the pop-up menu. Confirm you want to uninstall the Yahoo toolbar by clicking the Yes button in the confirmation dialog.