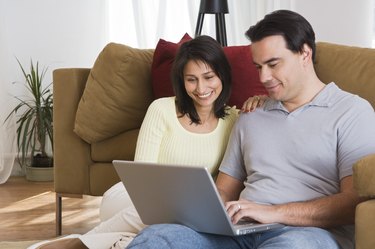 Browser hijacking is when individuals participate in online fraud by gaining control of your Internet browser using malicious software. If your Yahoo! Search is directing you to websites that look nothing like Yahoo! Search or if searches are pointing to sites that you usually avoid, it is safe to assume that your Yahoo! browser search has been hijacked. Gaining control over your browser after a "hijacking" is relatively easy, and you should take steps to prevent future attacks.
Step 1
Close all windows on your computer. Press CTRL + ALT + DEL and select the Task Manager (in versions older than Windows Vista, the Task Manager will appear automatically after pressing CTRL + ALT + DEL). Select the Processes tab. Locate your Internet browser (Internet Explorer will be 'iexplorer.exe' and Mozilla Firefox is 'firefox.exe'). Select the process and click "End Process." This closes all browser windows or components associated with the browser.
Step 2
Install an anti-spyware program and an anti-virus program if you have not already (see Resources 1 & 2) and run a complete scan of your system. Many anti-spyware and anti-virus programs are capable of catching and removing certain browser hijacking programs.
Step 3
Disable add-ons within your browser. Browser extensions and toolbars, among other ActiveX controls, are excellent at enhancing your Web experience, but when malicious software is installed disguised as these controls, unwanted content is displayed and pop-up ads are seemingly never-ending. To temporarily disable add-ons in Internet Explorer, click "Start" and then select "All Programs." Open Internet Explorer (No Add-Ons). In Firefox, disable add-ons by clicking "Tools" and selecting "Add-Ons." Click "Disable" on the add-ons that you would like turned off.
Step 4
Re-open your Internet browser and turn on your pop-up blocker. In Internet Explorer, click the "Tools" menu and select "Internet Options." Click the "Privacy" tab and in the Pop-Up Blocker section, check the box that says "Block pop-ups" and click "OK." In Firefox, click "Tools" and then select "Options." Click the "Content" tab and check the box that says "Block Pop-up Windows." Click "OK."
Step 5
Reset your browser settings. Close all windows and then open your Internet browser. In Internet Explorer, click "Tools" and "Internet Options" and then select the "Advanced" tab. Click "Reset" and then click "Close" and "OK." In Firefox, reset your homepage by navigating to the site you want to set as your homepage and dragging the icon in the address bar to the "Home" icon.
Step 6
Remove any unwanted programs with the "Add/Remove" feature in Windows. Open the Control Panel and click "Add or Remove Programs" (in newer versions of Windows, it may be under "Uninstall Programs"). Locate the program that is causing unwanted behavior (see Warnings). Remove the program by clicking "Change/Remove" and following the instructions on your screen.
Step 7
Change your search settings. In Internet Explorer, click on the arrow in your search box and click on the Yahoo! Search. If Yahoo! Search is not listed, click "Find More Providers" and locate Yahoo! Search. In Firefox, type "About:Config" in the address bar. Click "I'll be careful..." to proceed. In the Filter box, type "keyword" and then double-click on "keyword.URL". Change the value in the box to "http://search.yahoo.com/search?sm=Yahoo%21+Search&p=" to change your search back to Yahoo! Close the box and continue browsing.
Step 8
Empty the recycle bin and restart your computer.