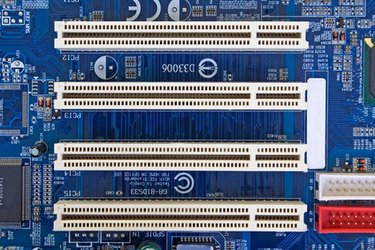 A memory slot is a slot in your motherboard where you place your RAM (Random Access Memory) card. In layman's terms, the RAM is the "temporary memory" that the computer utilizes whenever it is turned on. If the computer cannot detect a RAM card installed in one of your memory slots, you have to troubleshoot the problem immediately.
Step 1
Ensure that the problem is with the RAM slot and not the memory card. Turn off the computer, unplug all devices connected into the ports of your computer and open the computer casing. Refer to the manual of the computer to know the specific steps to follow in opening the computer casing.
Step 2
Remove the memory card from the RAM slot. To do this, unlock the card using both hands. Pull the card away from the slot to remove. Inspect the RAM card for any apparent physical damages. Wipe the card with a clean cloth to remove dust. Also wipe the memory slot in your motherboard.
Step 3
Place the RAM card back into the memory slot. Press the card into the slot until it clicks into place. Close the computer casing, connect the cables back into their respective slots and turn on the computer.
Step 4
Turn on the computer and see if the memory is detected. If the computer does not boot up, the RAM card is not detected by the computer. Assuming that you have two memory cards installed in the computer and the computer boots up, check if the second memory card is detected by the computer. Click "Start," right-click "Computer" and then "Properties." Under "System," check the amount of "Installed Memory (RAM)." If the RAM is not detected, the RAM slot or the RAM card itself may be malfunctioning.
Step 5
Place the RAM card into another memory slot in your motherboard and see if the card is detected. If it is detected, the other memory slot is malfunctioning. Do not install any RAM card into it to avoid further damage. If it is not detected, the RAM card may be malfunctioning. Insert another RAM card into the slot. If the RAM card is detected, the slot is malfunctioning.