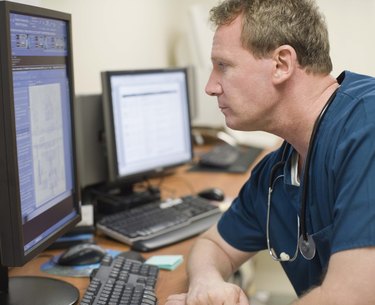 Viruses and other malware corrupt drivers and system files, and changes to system configuration can all interfere with Windows XP SP3's ability to boot. The Windows XP SP3 CD comes with the Recovery Console, a command prompt users can access to restore the system.
Major computer manufacturers no longer include the Windows CD with the system, but some copy the setup files to the hard drive. Users can run System File Checker (SFC) on a system if the setup files are located somewhere on the disk. If the manufacturer did not include any setup files, the computer may still be able to run System Restore in Safe Mode.
System File Checker
Step 1
Boot to Windows XP. Sign on as an administrator. Click "Start." Click "Search."
Step 2
Choose "All files and folders" from the options in the left pane. Type "i386" into the field "All or part of the file name."
Step 3
Choose "Local Hard Drives (C:)" from the drop-down menu. Click the arrow next to "More advanced options."
Step 4
Check "Search system folders," "Search hidden files and folders" and "Search subfolders." Click "Search" to browse your hard drive for the system files found on the Windows XP SP3 CD. Review the results and take down the location of the "i386" folder, if found.
Step 5
Click "Start." Click "Run." Type "SFC /scannow" into the dialog box. Click "OK." Windows XP SP3 will search your computer for and replace any corrupt or missing system files.
Step 6
Click "OK" if the "Insert CD" pop-up appears. Type the location of the i386 folder into the dialog box. Press "Enter."
Safe Mode with System Restore
Step 1
Reboot the computer. Hold down or tap "F8" repeatedly to display Windows Advanced Options.
Step 2
Highlight "Safe Mode." Press "Enter" to load a lightweight version of XP SP3.
Step 3
Click "Start." Point to "All Programs." Point to "Accessories." Point to "System Tools." Click "System Restore."
Step 4
Click "Restore my computer to an earlier time." Click "Next." Select the most recent restore point from the list.
Step 5
Click "Next." Confirm your selection. Click "Next." Windows XP SP3 will restore itself to the designated point.